Last Updated on June 27, 2022 by Laura Turner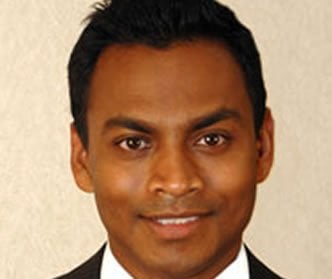 Dr. Christopher K. Thiagarajah works in private practice several days a week in offices in Riverdale MD, Bethesda, Georgetown and Washington Hospital Center and proctors the Georgetown/Washington Hospital Center residents' clinic once a week. An economics major at New YorkUniversity, Dr. Thiagarajah was originally a NASDAQ equities trader at Datek Securities in New York for two years before heading to Howard University College of Medicine in Washington, DC, where he earned his MD.
He then served an internship in internal medicine at Beth Israel Medical Center, Albert Einstein College of Medicine in New York. Dr. Thiagarajah's ophthalmology residency was with Howard University in Washington, DC, and his neuro-ophthalmology fellowship was at University of Cincinnati in Ohio. His final fellowship, in oculoplastics, was at Park Avenue Oculoplastics in Denver,CO.
A current reviewer of the American Journal of Ophthalmology, Dr. Thiagarajah is also a board member of the New Jersey Academy of Ophthalmology, chairman of AAO Young Ophthalmologists Council to the ONE Network, advocacy ambassador of the American Academy of Ophthalmology, and instructor of the American Academy of Ophthalmology's Double Vision Course. He is a member of several medical associations, including American Society of Orbital, Plastic and Reconstructive Surgery (fellow membership), Medical Society of Maryland, Medical Society of DC, North American Neuro-Ophthalmology Society, American Academy of Ophthalmology, and American Society of Cataract and Refractive Surgeons. In addition, he is American Board of Ophthalmology Certified, and also has his VISX Laser Certification, LadarVision Certification, Hansatome Certification, and a Series 7, 16, 32 NASD License.
When did you first decide to become an ophthalmologist? Why?
I decided to become an ophthalmologist when I was in medical school. I started my general surgery rotation thinking that I probably wouldn't like it. "After all, aren't surgeons supposed to jerks?" Much to my surprise, I thought it was awesome and the people were great. A person comes in with a problem and you fix it. I then started looking into ophthalmology, ENT and urology as surgical subspecialties. I loved the idea of being one of a few people in the country or world doing something.
During my junior year, I met the ophthalmology attendings at Howard University where I went to medical school, and I observed they really loved what they did and had a great time doing it. I had also noticed as a junior there were some specialties where a lot of attendings were frustrated or generally unhappy and decided to avoid those. The final piece of the puzzle was watching a patient with a ruptured eye from a trauma have their eye pieced back together and his vision restored. That's when I decided to go for ophthalmology.
How/why did you choose the medical school you went to?
When I decided to go to Howard it was because the faculty seemed to have a close personal relationship with their students. I wanted a personal relationship with my professors in medical school and wanted to be in a big city such as Washington DC. That's why I chose Howard. It turned out to be a great decision. I loved my four years there and served as student body president of the medical school as a senior.
What surprised you the most about medical school?
I think no matter what you expect or what you are told in undergrad about medical school workload, once it starts it is something you have never seen before. You can plan and prepare, but until you are there in the trenches you can't understand the difficulty or volume of material. In the words of Mike Tyson, "Everyone has a plan, until they get hit." It took me a couple weeks in my first year to really get a handle on the amount of volume of work.
If you had it to do all over again, would you still become an ophthalmologist? (Why or why not? What would you have done instead?)
Absolutely. Ophthalmology is amazing. You can choose the career you want to have. There are so many varied specialties, from retina to cornea to plastics. All of them are extremely rewarding and help people in so many ways. When patients can have their vision restored or their tearing stopped, there is nothing like it. Patients are so appreciative. As an oculoplastic surgeon, I get to not only help people look and feel better, but also remove tumors in the eye socket and help lift their eyelids. Especially in a subspecialty such as oculoplastics where patients are told nothing can be done and then get their problem fixed. It is very rewarding.
Why did you decide to specialize in oculoplastics?
I loved the refined technique of the oculoplastic procedures. Surgery and precision I think go hand in hand. When one learns microsurgical techniques from ophthalmology and then transfers it to plastic surgery, the results are amazing. Also, one may think that improving a patient's looks or how their eyes and face appear is not a big deal, but it can have a huge positive effect on their self esteem. I also remove tumors from the eye socket or even break bones in the eye socket to treat Graves disease or exophthalmos. All these procedures have tremendous immediate impacts on the lives of patients.
Has being an oculoplastic surgeon met your expectations? Why?
Being an oculoplastic surgeon has definitely met my expectations. I expected to have a career that is a combination of elective and emergent procedures, which oculoplastics gives me. The types of patients that one sees as an oculoplastic surgeon tend to be appreciative of what you have done for them, which is what my perception was as a medical student. Additionally, half my practice is cosmetic surgery and half what we call "functional" surgery (aka medical). That percentage, one can control and increase or decrease depending on their interest.
What do you like most about being an oculoplastic surgeon?
The thing I like most is reconstructing a damaged eyelid or correcting a congenital deformity on a child. You know when you do that, it will have an immediate and lifelong impact on that child. It will affect not only their psyche and appearance for years to come. I have had children with droopy eyelids that have been teased and traumatized at school for years. Their self esteem has been damaged by other children. After their surgery, their life has changed. When you hear their stories you get an appreciation of how much impact you are having by improving their vision and appearance.
What do you like least about being an oculoplastic surgeon?
I think the thing I enjoy the least about an oculoplastic surgeon is hearing the patients who have medical issues tell me the problems they have with insurance companies. As we know, insurance companies essentially don't want to pay for anything, but I have had patients who have had eye tumors, cancer on their eyelids have their surgery denied by the insurance company because it was felt it was "unnecessary." Some insurance companies deny every third claim they get from patients just to increase the paperwork and "cost" for the patient and doctor so hopefully there will be less procedures to pay for. There is no moral compass for a corporation which is totally different than what is entailed in the practice of medicine and healthcare as a physician.
How did you decide how to practice (i.e. private practice, group, hospital, etc.)?
I wanted to have an interaction with residents along with a private practice career. I now work in private practice several days a week in different locations. I also proctor the Georgetown/Washington Hospital Center residents' clinic on Thursdays. I like to spread myself out because my draw for patients comes from a wide area. My offices are in Riverdale MD, Bethesda, Washington Hospital Center and Georgetown, which is a 20 mile radius in the Washington DC area. I think patients appreciate not having to travel far for subspecialist care. Also, you can get a very different mix of patients depending on the region that you practice. I end up going to the different offices on different days. It mixes things up for me and keeps things fresh.
Describe a typical day at work.
In a typical day of work, I operate in the mornings starting at 8 a.m. I usually do five cases in the morning and then head to the office to see patients starting at 1 p.m. In the office, I do some minor procedures, such as biopsies of skin cancer, removing eyelid lesions, see postops, preops and consultations. I then usually go to Washington Hospital Center or Georgetown to see any consults with the residents at around 5 p.m. By 5:30 or 6 p.m., I am on my way home.
Do you work with mid-level providers, and if so, what kind(s)?
I work with nurse anesthetists at the hospital when I operate.
On average: How many hours a week do you work? How many hours do you sleep per night? How many weeks of vacation do you take?
I work on average 60 to 70 hours a week. I sleep about seven to eight hours a night and take about four weeks vacation including meetings.
Are you satisfied with your income?
I am very satisfied with my income.
If you took out educational loans, is/was paying them back a financial strain?
I did not take out a loan for medical school.
In your position now, knowing what you do – what would you say to yourself 10 years ago?
Keep going strong! It is totally worth it and everything you thought it would be.
What information/advice do you wish you had known when you were beginning medical school?
I wish I had known about the business of medicine more.
From your perspective, what is the biggest problem in healthcare today?
I think the biggest problem right now is appropriately reimbursing physicians, surgeons and specialists for their care. When I perform a deep orbital tumor removal where the risks include blindness and double vision for the patient, I get reimbursed a little more than when I remove a stye from the eyelid. It is a highly precise procedure with a high risk of complications. It just doesn't make sense how they decided what the amount to reimburse for different procedures. If Medicare and insurance companies choose to pay poorly for complicated and tedious procedures, no surgeon is going to want to do them. Those patients will be bumped around from surgeon to surgeon, their care will be delayed, and ultimately their treatment will be compromised. Would you want to get paid $100 for a two-hour procedure with a significant chance of a million dollar lawsuit? No one would.
If you look at all procedures or specialties where it is very hard to find a doctor or specialist who does the procedure, look at the reimbursement. Chances are that it is so low that you can't sustain a practice with it. We live in a society where there are costs, and at the end of the day doctors have to pay their staff, overhead expenses and provide for their families as everyone else does. As Americans, we demand top quality comprehensive healthcare, but we have to be willing to pay for it. If you want a ride somewhere but you only want to pay $5, you are going to end up riding in a cab, not a Ferrari.
Where do you see oculoplastics in 10 years?
In 10 years, I see oculoplastics continue as a major player in the plastic surgery world. There are so many procedures and techniques that are contributed to the plastic surgery world from oculoplastics and this only continues to grow and expand.
Today, most people want their surgery done by a specialist. The days of a general surgeon performing everything from a heart transplant to a tear duct procedure are long gone. In 10 years, this will only happen more as patients become educated and  the demand for oculoplastics will only grow as more people realize they want their surgery done by a subspecialist and not a "jack of all trades, master of none."
What types of outreach/volunteer work do you do, if any?
I volunteer once a year to perform surgery in underserved countries. I have been to Vietnam and Indonesia in this capacity. Also I routinely perform free surgery for patients in the DC,Maryland area through Washington Hospital Center Eye Department. Finally, I volunteer my time teaching residents in the surgical and the medical aspects of oculoplastic surgery.
Do you have family? If so, do you have enough time to spend with them?
I am engaged and have an amazing fiancé. It is always hard to balance the time you spend with family and your patients. Luckily, she is very understanding and supportive. At the end of the day, I think she realizes that she is marrying a surgeon and not an insurance executive. Our work is different than someone with a 9 to 5 desk job or someone who clocks in every day. Just like life, our work is unpredictable. There are emergencies and it is something you have to balance with your personal life. I focus my time away from work on my family because it is a priority for me. I think you have to do that to strike a balance.
Do you have any final piece of advice for students interested in pursuing oculoplastics?
If you are interested in oculoplastics, get involved very early, preferably during medical school or during your first year of residency. Every year there are 70 to 100 applicants for 13 to 14 spots. It is very competitive, so you should position yourself to get the best chance to get in. Try to get some research done and let the oculoplastic attendings you know that you are interested.