Last Updated on June 22, 2022 by Laura Turner
On March 1, 2022, the Liason Committee on Medical Education (LCME) updated the Accreditation Status of California Northstate University College of Medicine (CNUCOM) to "Provisional, on probation." This announcement follows a reconsideration hearing for CNUCOM held on February 17, 2022.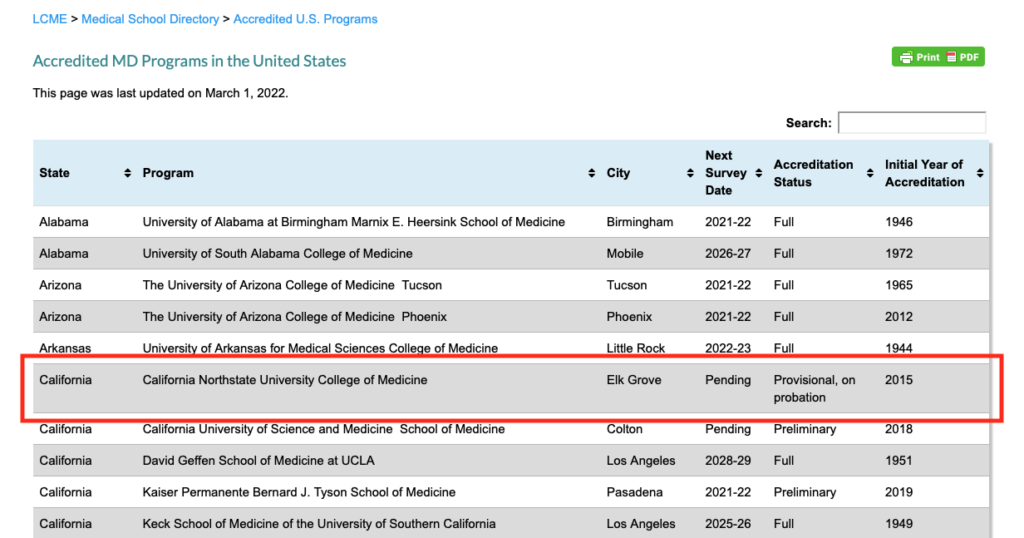 On January 31, 2022, CNUCOM announced to its students, faculty, and staff that the LCME had denied the institution full accreditation status.
On February 15, 2022, the Sacramento City Council voted to approve a plan for CNUCOM to build a teaching hospital on the site of the Sleep Train Arena, formerly the home of the Sacramento Kings basketball team. (1) However, when pressed by a local news reporter at CBS Sacramento 13, city officials refused to comment on the question of if they were aware of the LCME decision before the vote. (2)
Probation Status – What Does It Mean?
According to a study published in Academic Medicine, probation status is the most severe action decision short of withdrawing accreditation. (3) The LCME Rules of Procedure state that the LCME places a program on probation if they do not substantially comply with published standards. Specifically, it means that the LCME judged that "…the areas of serious non-compliance have compromised the quality of the medical education program, or that the program has failed to make satisfactory progress in achieving compliance after having been granted opportunity to do so." A school placed on probation is subject to accreditation withdrawal if they do not address their compliance issues within 24 months. (4)
Schools placed on probation by the LCME are required to disclose the final LCME action to all current and prospective students within seven business days. As of the publication of this article, the California Northstate website still indicated that their accreditation status was at "Accredited, Provisional Status".
References